When the pandemic first started and most of us moved to our home offices, we didn't really think it would be a long-term thing. But working at home and being effective in the virtual space is now required in today's business world. I've compiled 3 tips for you to improve your approach to virtual meetings right now.
You Can Shine in the Virtual Space! Here's how:
#1 — You and Your Workspace
The first thing that you want to do is make sure you and your workspace are ready for virtual meetings — planned and unplanned. In our move to a more virtual world, there's an opportunity to build your own personal brand that resonates from impressions from your virtual meeting workspace– how you look, how you act, and how you engage with your peers / customers / managers / the outside world all set the stage for first impressions from which people can judge you.
In net, it DOES matter what you look like – and if you don't control your personal branding, your actions and those first impressions will control it for you.
TIPS:
Regularly show up on time (book 55-minute meetings; space 15 minutes between meetings …)
Avoid regular technology issues (it may be the operator)
Try not to change links
Get your time zones right
Have a few clothing options close by for those unexpected virtual meetings
#2 —
Meeting Logistics
Meetings represent a huge potential value to both companies and employees, so when planning and running meetings you should not wing it and hope for the best. Instead, earn a reputation for running efficient and successful meetings because it is good for you and your career.
Identify the type of meeting (updates / information sharing / decision making / innovation / brainstorming / team building / sales presentations)
Prepare for your meetings:
TIPS:
Avoid back-to-back meetings. Allow a 15-minute break prior to and after an important meeting.
Schedule in your own meeting software whenever possible
Use calendar software

to book meetings and show availability (for example, calendly.com integrates with your existing calendar and simplifies scheduling)
#3 — Prep for Your Virtual Meeting
A few days before the presentation, you need to plan and practice. Try to avoid the "making changes until the last minute" as much as possible.
TIPS:
Start your meeting with introductions and set the purpose(s) for the meeting.
Keep participants engaged by calling on them, referring to a previous discussion, asking them questions and sharing information that is relevant for them and will help them in their work.
Maximize virtual software for improved engagement.
Build your virtual sales presentations using storytelling and fact-based insights that focus on the audience and not on you and your business.
Pay attention – listen to what your audience says. And if they are saying nothing, it's not a good sign.
BIGGEST CHALLENGES IN VIRTUAL SPACE:
| | |
| --- | --- |
| Challenge | Opportunity |
| Being prepared | Personal branding, Plan for the unexpected meeting, and Prepare + prepare + prepare |
| Keep your audience engaged | Grab attention up front. Ask questions to specific people using their names. Use meeting software and apps for increased engagement. |
| Develop relationships and build rapport | Add value to your peers, teams or customers. Stand out from competition in external meetings. |
---
What are your biggest opportunities to improve YOUR virtual meetings?
Check out your Preparing for a Virtual Session TOOL available at: https://ispri.ng/JxXpl to develop your own personal brand and prepare for success in virtual meetings of all kinds.
---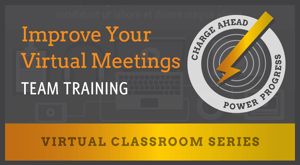 Looking to prepare your team for virtual meetings? We can help. Learn more about our Virtual Classroom Training on this and other topics.