Collaboration is on many organization's strategic plans, with effective Joint Business Planning (JBP) being the outcome. Retailers' and Vendors' have the opportunity to determine mutual areas of interest and build their businesses in a collaborative way — namely by taking steps to improve Shopper satisfaction with a better experience.
However, effective Collaboration and JBP require more than a desire or written strategic plan. Both require that your organization undertake 3 consecutive steps:
Prepare your organization internally for collaboration;
Align your internal approach across your multifunctional teams through common training; and
Implement external Collaboration and Joint Business Planning.
Collaboration and Joint Business Planning can help both Retailers and Vendors manage the change that continues to dominate, including:
Changing partner needs and expectations between Retailers and Vendors
Changing market and Shopper,
Less resources available internally due to downsizing / consolidation, and
Increased requirements due to more and bigger data and a more complex Shopper.
Here are some resources to help you get started:
Complimentary Download: Collaborative Relationship Continuum Model

Course Video Preview: Collaborative Business Planning

Course Overview: Collaborative Business Planning
---
3 Steps: Improved Collaboration and Joint Business Planning
Step 1: Be Prepared Internally
It's important for teams and organizations to first understand what collaboration is:
Collaboration is highly diversified multifunctional teams working together inside and outside a Retailer / Vendor with the purpose to create value by improving innovation, Shopper relationships and efficiency while leveraging technology for effective interactions in the virtual and physical space. (Carlos Dominguez, Cisco) (modified by Sue Nicholls, CMKG)


Are you ready to collaborate? Start by defining your assets, prioritizing your opportunities and seeking out the right business partners. The questions below can help determine if your organization is ready to collaborate (taken from the Category Management Association's whitepaper on "Strategic Collaboration for Shopper Satisfaction"):
What do you want to gain by collaborating?
Is your company set up to foster and support collaboration?
What multifunctional resources / data / technology / intellectual property can be shared with your collaborative business partners?
---
Step 2: Create Internal Alignment
Moving to a collaborative approach requires your multifunctional teams to be able to see the "bigger picture", turn data into insights, think beyond brand into total category, and better understand the consumer AND Shopper. These responsibilities must be expanded to marketing, sales, private label and retail teams in an aligned approach.
Alignment of all functions in your organization occurs through engagement and training in category management. In fact, training approaches need to change for most organizations, as traditional "point and click" linear approaches based on a new data source or tactic no longer suffice. In a collaborative approach, teams need to start thinking more strategically about how the decisions and recommendations they make align to the overall strategies for the organization and for their external collaborative business partners. This can be accomplished by equipping multifunctional teams with a common set of knowledge and skills acquired through training courses.
Role-based training in combination with strategic training will help individuals and teams feel more confident they are making choices and recommendations that match with your overall collaborative efforts and Shopper.
---
Step 3: Move to External Collaboration and Joint Business Planning
Now that you've established where you are currently at with your Retailer or Vendor partners, you can undertake Joint Business Planning (JBP) — the "next level" in a collaborative relationship. JBP should build from foundations established in collaborative relationships.
In theory, Joint Business Planning is a collaborative effort between the Vendor and Retailer which involves open sharing of information. Shared information allows for the creation of a common, mutually-agreed-to business plan. But let me insert a bit of reality into this idyllic definition. From a basic level, it is a business plan that is developed between Vendors and Retailers, through sharing of select information. The plan should include expected trends, initiatives and the forecasted market environment, so that there is a greater chance for the goals and objectives within the plan to be attained.
The higher the level of collaboration between the organizations, the closer you will move toward the theoretical definition of Joint Business Planning.
A successful Joint Business Plan requires each party to clearly understand the others' goals, business and customer requirements. This shared understanding becomes the foundation of the JBP, with both businesses pooling their resources and expertise to achieve specific goals. The risks and rewards of the plan are also shared.
While specific approaches vary by Retailer, the following framework from CMKG category management training provides the key steps associated with most joint business planning processes: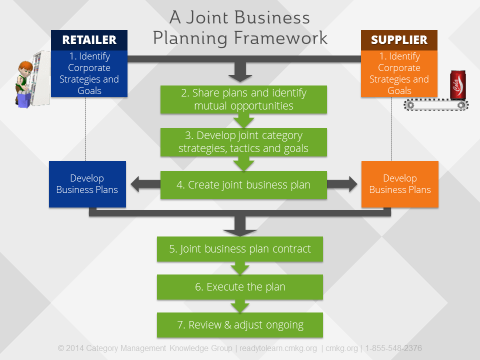 Let's look at the first step for the Retailer – identifying corporate strategies and goals. The Retailer, usually led by the senior management team, creates the sales, cost of goods and operating targets for the upcoming year. When you look at a Retailer's income statement, there are 3 ways that a Retailer can influence net income:
increased sales;
decreased cost of goods sold; and
decreased operating expenses.
Retailers' targets will most likely include initiatives behind all three of these components of the income statement to increase their net margin and income. Examples of initiatives may include new store openings, the current market, and private label opportunities for the Retailer. Other initiatives may be based on supply chain upgrades, information technology upgrades, or any other types of business process improvements that will impact the bottom line for the Retailer.
---
In summary, if you have properly defined collaboration internally and strategically selected your business partners upfront, you are less likely to run into problems. Problems are likely to arise in a Joint Business Plan if:
There are unclear objectives, one of the parties was not transparent in their sharing of information, or the plan was not properly communicated to everyone involved.
The partners have different objectives or hidden agendas in the joint venture.
One party is investing much more in terms of expertise, financial, and/or assets than the other party, creating an imbalance.
Different cultures and management styles with partners may result in poor integration and cooperation.
The partners don't provide sufficient leadership and support in the early stages of the program.
---
The Opportunity? For Retailers and Vendors to define mutual areas of interest, build business in a collaborative way, and improve the Shopper experience.
Want to learn more about Collaborative and Joint Business Planning? Category Management Knowledge Group can help you, your team or your organization through a single online, live or webinar course or a customized program. We have some great category management training options available to meet your needs. You can preview our brand new, accredited Collaborative Business Planning course below:
$125 USD
INCLUDES:

30-day Access

Hands-On
Workshops

Downloadable
Notes

Reference Guide

Knowledge Checks

Course Test