How often do you think about the effect of your decisions or recommendations on a Retailer's Income Statement? If not often, consider that matching what Retailers are trying to accomplish from a financial perspective will help Retailers make better decisions and Vendors make better recommendations.
Introduction to a Retailer Income Statement —
The retail income statement shows over a certain time period:
How much money the company generated (Revenue or Sales)
How much it spent (Expenses)
The difference between the two (Profit)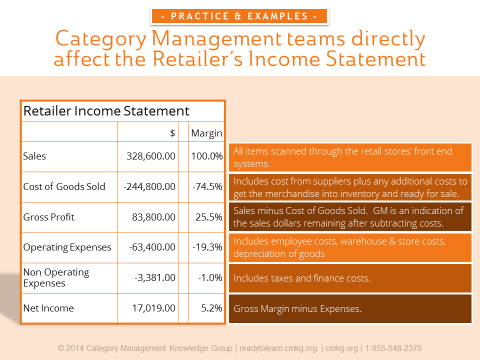 Above is an example of a basic Income Statement for a Retailer, including these parts:
Revenue: also commonly known as sales; often a single number that represents all the money a company brought in during a specific time period.
Cost of Goods Sold: the expense most directly involved in creating revenue; the costs of producing or purchasing the goods or services sold by the company.
Gross Profit: sales dollars remaining after subtracting the costs of purchasing merchandise; indicates the ability to convert existing inventory into future cash.
Operating Expenses: also known as selling, general and administrative expenses or SG&A; operating expenses include employee costs, warehouse & store costs, depreciation of goods, and so on.
Non-Operating Expenses: taxes and finance costs.
Net Income: a company's profit after all expenses have been paid, including financial expenses.
One important item not included on the Income Statement, but recorded in a separate financial report for the Retailer, is the Retailer's Balance Sheet. The balance sheet shows an asset portion of the Retailer's financial results, including a "current asset section" called merchandise inventory. This is of special note because category management teams are responsible for managing inventory within their categories. If a Retailer's assets are tied up in high amounts of inventory, it restricts other more productive investments.
---
Here are some resources to help you get started:
Complimentary Download: How to Influence Cost of Goods Sold in an Income Statement
Course Video Preview: Retail Economics and the Product Supply Chain
Course Overview: Retail Economics and the Product Supply Chain
---
Category Managers Can Impact a Retailer's Income Statement
Let's go through a simple but effective approach to dissect the Income Statement to understand how Category Managers affect the Retailer's Income Statement.
First, let's look at the different responsibilities Category Managers have.
Category Managers spend their time in different areas such as administration, the tactics, category management, tradespend, logistics, retail and Vendor management. The image below breaks down these different responsibilities, including percentage splits in time based on feedback from our retail clients. The numbers will vary by Retailer, as do some of the responsibilities.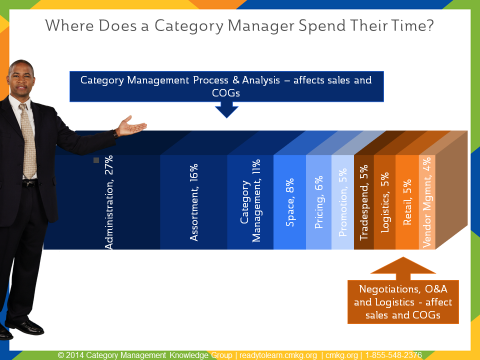 Responsibilities can be categorized into two distinct areas:
Category management process and analysis; and
Negotiations, including over and above tradespend and logistics.
Responsibilities within both areas can affect sales and Cost of Goods Sold in the Retailer's Income Statement. Analytics in this approach are sometimes referred to as retail math.
---
How does a retail Category Manager influence net margin on the Retailer's Income Statement?
In short, they can either:
Increase Sales -and/or-
Decrease Cost of Goods Sold
---
Increasing Sales
There are several ways Category Managers can influence sales (usually measured through sales performance vs prior period and vs targets or budgets), including:
Category Tactics create action in the category and are key drivers of their business.
Other Income can include over & above spending by Vendors, including deals and allowances based on ad space, promotional activity, or buying deals; cash discounts that are paid by Vendors if the terms are met when paying invoices within a specific amount of time; and tradespend marketing dollars in the form of promotional allowances, slotting or listing fees or coop advertising, which goes towards things like hot prices, buy-one-get-one-free deals, flyers, display, new products, contests and in-store features.
Shrink is the difference in dollars, between the amount of inventory in the system, and the actual physical inventory count. It is subtracted from the sales in the Retailer's Income Statement. Shrink can be influenced by poor forecasting or planning or excessive inventory, theft and/or accounting issues.
---
Decreasing Cost of Goods Sold
COGS is the cost of merchandise that was sold to customers. This figure not only reveals the cost of the items (in dollars) that have been sold, but is also subtracted from net sales to arrive at gross profit.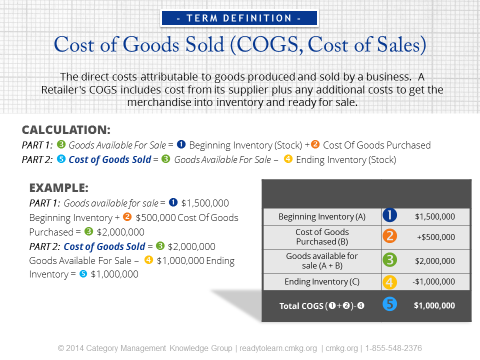 There are two ways that Category Managers can influence the Cost of Goods Sold:
a. Pricing and Promotional Strategies
Pricing and Promotional Strategies play a significant role in how much volume and gross margin are generated in a category and directly affect COGS. Retailers can negotiate to reduce the item cost for both regular price and TPR price through reduced item costs, dead net pricing, clearout items, price increases, deal pricing and price increases or decreases. This is an ongoing negotiation topic between Retailers and Vendors.
b. Effective Product Supply.
Since merchandise inventory is included on the asset portion of the Retailer's Income Statement, Category Managers need to pay attention to key inventory measures, including inventory turnover, inventory days on hand and Gross Margin Return on Inventory (GMROI).
GMROI is a powerful measure that compares gross margin generated to the investment in inventory required to generate those gross margin dollars. For every dollar spent in inventory, GMROI reports how much is earned in gross profit. Retailers need to ensure that every dollar invested in inventory is as productive as possible at generating gross margin dollars, and this can be done through careful monitoring of GMROI.
---
The opportunity? Retailers and Vendors should gain a strong understanding of the Retailer's Income Statement to inform more strategic choices and recommendations. Multi-functional teams can then consider how their strategic decisions and recommendations affect the Shopper, and positively impact both the Retailer and Vendor's Income Statements.
---

Want to learn more about Retailer Economics? Category Management Knowledge Group can help you, your team or your organization through a single course or a customized program. We have some great category management training options available to meet your needs. You can preview our brand new, accredited Retailer Economics and the Product Supply Chain course below:
$125 USD
INCLUDES:

30-day Access

Hands-On
Workshops

Downloadable
Notes

Reference Guide

Knowledge Checks

Course Test