Last week I had the pleasure of attending the Category Management Association's annual conference in Las Vegas, where category management and shopper insights professionals gathered to learn, share and network. It was particularly exciting for us at CMKG, because the CMA announced our new partnership at the conference. This venture will allow us to get our training into even more brilliant minds around the world.
I facilitated 9 live training sessions over the course of the 3-day conference, spanning topics like:
Identifying Growth Opportunities in Your Business,
Fact-Based Presentations and Storyboarding,
Shopper Insights (co-developed and facilitated with Leslie Warsaw from SIMA),
Category Management in On-Premise (2-part session),
and many more!
This was the first time that such a large amount of training was offered for conference participants.
So far the feedback on this new emphasis on training has been GREAT! It's very satisfying that inquiring minds want to know!
9 Key Takeaways from this year's CMA + SIMA Conference Training
I wanted to share some key ideas that seemed to resonate across my sessions, including what I learned from participants and what we discussed, to give you some ways to consider moving forward and not stay in your comfort zone in today's highly competitive world.
From my 9 sessions, I have come up with 9 ideas for you to make some improvements in your approach as a retailer, manufacturer, or solution provider (or someone who just likes to learn!) and hopefully you'll find a few that resonate for you!
#1. Find new ways to identify growth in your business that go beyond traditional/historical business results.
If you're determining your growth opportunities in your business primarily using the following, then you are limiting your approach:
Historical sales,
Over- and under-developed categories/brands/segments based on a category development index,
Below category/market growth, and/or
Below quotas or sales objectives.
Some new and better ways to supplement this historical approach include:
Know and focus on your consumer/shopper
Know when and where your products are purchased
Know your direct and indirect competitors
Monitor performance of complementary products
Look at different markets to estimate business potential
Analyze your external environment
#2. Refine your presentation skills (internal or external) using storyboards to get across the most important points based on your audience.
Identify what you're trying to do
Analyze your data and draw true insights
Clarify the situation
Develop your presentation
#3. Think of Shopper Insights in a larger scope than for category management and open the door to new opportunities.
Understand the difference between Shopper Insights (SI) for category management and for the broader (retailer or manufacturer) organization – they are different!
Humanize the shopper for your organization – and start to teach about your most important shoppers and their journeys.
Provide broad access to SI data for shopper consideration across business functions – don't restrict access to necessary business-building insights!
Identify where your organization wants to "play" in SI based on your size and level of sophistication – not all SI is created equal!
Watch the video below to learn more …
#4. Move to a more, strategic and fact-based approach to your on-premise business for new conversations with your customers.
With the development of new data sources over the past few years in on-premise, the benefits and opportunities to moving to a new approach include improved strategy, better decision making, more data, and increased collaboration.
Teach your On-Premise (OP) team how to use some category management strategic foundations, drill through data, including depletion, market [Nielsen CGA], shopper [Nielsen OPUS, Numerator, etc.] and tactics and come up with win-win solutions that go beyond the traditional approaches in OP.
Challenge your organization to think about the business from your customer's perspective, including what they want, their performance and competition, and helping them to understand their shopper and identify trends before your competition.
#5. Start refining your category management approach in e-commerce through some basic considerations and perspectives.
Understand the key data sources in e-commerce and explain some of the challenges in it vs Brick & Mortar and total market data.
Ensure that you reflect advanced analytics into your e-commerce approach – including leakage trees, conversion analysis, decision trees and product attributes, and competitive analysis – so shoppers can find you on their learning journey.
Expand beyond traditional product attributes and redefine categories in the online space to better reflect shopper needs (e.g. non-GMO, diets, allergies, etc.)
#6. Don't underestimate the importance of a few PowerPoint tips to save time and create waaaay nicer looking presentations.
Know how the backend stuff works in PowerPoint - including SlideMaster, templates and color palettes – so you're making changes in the right place to save time!
Don't let PowerPoint boss you around – some of their defaults are terrible – learn how to change them to better suit your needs.
Understand some cool stuff with things like text boxes and shapes (yes, they can be very exciting – resizing text, splitting into columns, aligning your objects) – your presentation will look consistent and professional.
Know how to make compelling charts that tell a story. Check out the graph makeover and decide which one looks better — we like the one on the right: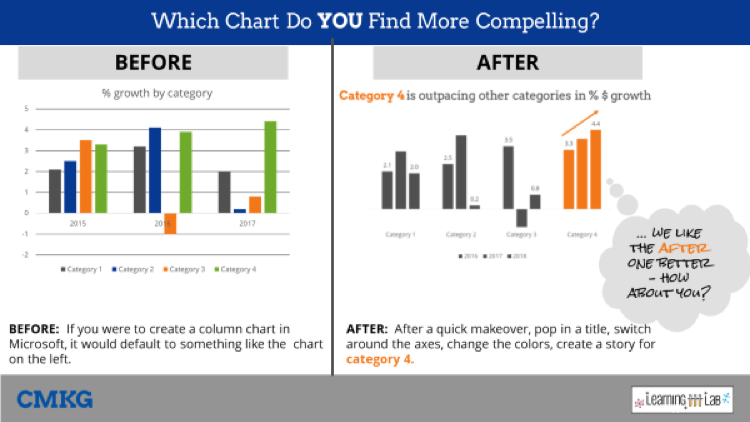 #7. Face it – category management has changed – and your approach needs to change accordingly. Stop sticking to what's worked for the past 30 years and refresh your approach.
Refresh your Category Management Foundations and expand category understanding beyond the category management team.
Revisit current category definitions and segmentation based on expanded product attributes and incorporate into your item level data for new shopper perspective.
Improve access to data across your organization.
Create an analytic pathway for developing category reviews and business reviews that incorporate more advanced data sources and shopper insights.
Improve your tactical analysis that expands beyond traditional, historical data sources.
#8. Learn to think like a retail category manager including what they are responsible for, what THEIR goals & objectives are, and how your solutions impact the retail income statement.
Understand what a retail category manager is responsible for beyond category management.
Consider how a retail category manager impacts the retail income statement, and think about how the decisions and recommendations you make help them or hinder what they are trying to accomplish as it relates to sales and cost of goods sold.
#9. Take the time to improve YOU and your approach!
Build your critical thinking and business acumen, ensure you have the skills required to do your job, stay relevant, always be learning.
If any (or all!) of these opportunities piqued your interest, I encourage you to subscribe to our blog.
Subscribe to Blog Updates here
Stay Tuned!
I'll be writing about each of them in more detail in the upcoming months and sharing a deeper perspective on what you need to do if you haven't already. That way, you'll get a quick email notification for each article.
Happy learning in the meantime!