Selling is a requirement in any business. In the retail industry, selling takes place both internally and externally for Retailers and Vendors across departments and teams.
There are multiple "Seller" to "Buyer" relationships, including:
EXTERNAL SELLING RELATIONSHIPS
the account manager or sales director (Seller); calling on the category manager or business unit lead at the Retailer (Buyer).
the category analyst or vendor advisor (Seller); calling on the category manager, or someone else in the retail organization responsible for different components of the category review process (Buyer).
the Retailer's category manager with a new promotion or plan (Seller); calling on an account manager or sales director (Buyer).
INTERNAL SELLING RELATIONSHIPS
the category manager at the Retailer promoting an idea or concept (Seller); to their business unit lead or manager (Buyer).
the Vendor's category analyst or category management director promoting in an idea or concept (Seller); to the marketing director or sales director within their organization (Buyer).
So when you think about developing selling skills, expand your concept of Sellers and Buyers beyond the Vendor's sales team. The graphic below summarizes:
---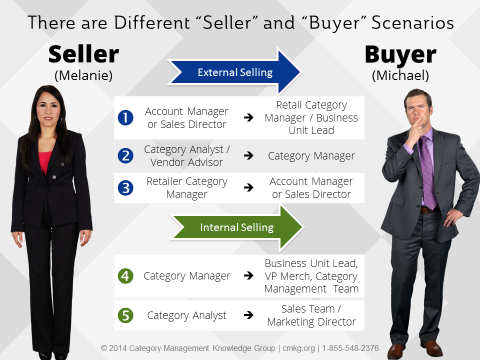 Two critical components of any selling approach include your ability to create engaging and informative presentations that focus on your Buyer (either internal or external). These components include the ability to use software tools like PPT and to tell a compelling story with relevant, fact-based details to your audience. Both components are critical, and must be developed BEFORE you can focus on strategic selling skills.
Here are some resources to help you get started:
Course Video Preview: Strategic Selling
Course Overview: Strategic Selling
---
4 Ways to Implement a Strategic Selling Approach
Present ideas that are of interest to the Buyer
You need to understand your Buyer and consider their motives and how their business works — e.g. a strong understanding of their Retailer Strategy if the Seller is an account manager and the Buyer is a Retail Category Manager.
Make sure that your idea is practical and is not too difficult to understand. You can ask yourself whether the idea meets two or more of these criteria:
aligns to the Buyer's situation
helps them with their business
solves a specific issue
addresses an unmet need
possesses obvious benefits for your Buyer
Considerations for your Buyer and their needs should be woven into your entire strategic sales presentation. It should be about them – not about you!
Have a presentation framework
Building upon a solid framework gives your presentation logic and flow, and ensures that you will cover all of the important questions that are likely to arise in your Buyer's mind.
Begin with a clear summary of the situation, including consideration for the Buyer's conditions, needs, limitations and opportunities with compelling facts that relate or support your statement. Remember, your summary should grab the Buyer's attention by communicating that you understand their situation and have something significant to offer them.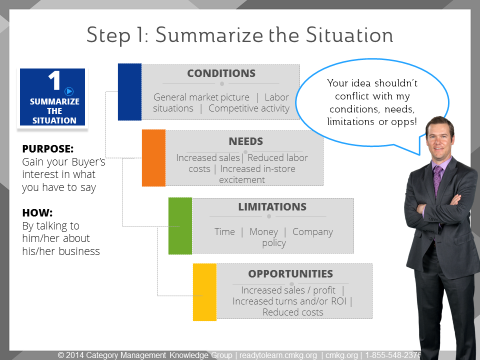 By researching their situation, you can more easily anticipate their most likely objections so that you can easily answer their questions about how your idea benefits them or their business, solves their problem or addresses an unmet need. The rest of the presentation framework is illustrated below:

Learn how to deal with different types of objections
Objections are just part of the buying process — they are simply a concern presented in opposition to your idea. If your Buyer has an objection, it does not mean that he/she will not buy. Despite extensive preparation, as a Seller you will most likely face some unanticipated objections from your Buyer.
Misunderstanding "unexpected objections" can threaten your ability to uncover "win-win" solutions for both you and your Buyer and so it is important to prepare yourself with the right knowledge. By learning to identify what type of objection is being expressed (e.g. skepticism, indifference, misunderstanding, legitimate, red herring), you can tailor your response to the Buyer's needs.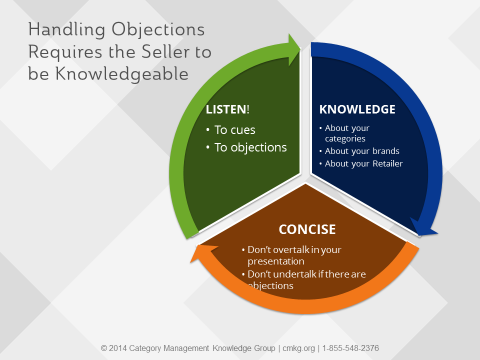 Consider alternatives and your walkaway positions in advance
Negotiating is an essential life skill. In our increasingly complex and competitive marketplace, negotiating has become a core requirement for many organizations.
An effective way to give both the Buyer and Seller power in negotiation is to create alternatives to 100% acceptance of your idea. By considering reasonable alternatives in advance of your presentation, you can explore their pros and cons in detail, including gaining approval or buy-in from others in your organization where necessary.
Another essential preparation is to define your walkaway position prior to the negotiation, should the other side become unreasonable or unwilling to create a win-win solution. Your walkaway position must weigh the predetermined value of the relationship and should ask:
Is this a mutually beneficial relationship, or one side taking undue advantage of the other?
It is better to walk away from a sale rather than make too large a concession on your product or service.
---
In summary, developing strategic selling skills is a requirement in most businesses. By learning how to tailor presentations to your Buyer and their needs, you can:
Anticipate and address objections of your Buyer
Gain confidence to negotiate win-win solutions
Know where your alternatives and walkaway position are
Move one step closer to a truly collaborative approach in your business
---
Want to learn more about Strategic Selling? Category Management Knowledge Group can help you, your team or your organization through a single online, live or webinar course or a customized strategic sales training program. We have some great category management training options available to meet your needs. You can preview our brand new, accredited Strategic Selling course below:
$125 USD
INCLUDES:

30-day Access

Hands-On
Workshops

Downloadable
Notes

Reference Guide

Knowledge Checks

Course Test