Supply Chain Management is an important, but sometimes misunderstood, process for both Retailers and Suppliers. So many individuals, teams and departments impact the supply chain for both Retailers and Suppliers — understanding the implications of how decisions and recommendations affect the bigger picture is critical.
In net, supply chain management includes planning and management of all sourcing, procurement and conversion activities, plus all logistics management activities. It includes coordination and collaboration with channel partners including Suppliers, intermediaries, third-party service providers and Retailers.
Think of supply chain management as the link between major business functions and business processes within and across companies. It creates a cohesive and high-performing business model, including all of the logistics management activities and manufacturing operations. Supply chain management drives coordination of processes and activities with and across marketing, sales, product design, finance and information technology.
Here are some resources to help you get started:
Complimentary Download: Product Return Inventory Flows
Course Video Preview: Strategic Supply Chain Management
Course Overview: Strategic Supply Chain Management
---
What is a Supply Chain?
A Supply Chain is a system of organizations, people, technology, activities, information and resources involved in moving a product or service from Supplier to Retailer. Supply chain activities transform natural resources, raw materials and components into a finished product that is delivered to the end Retailer. To compete and grow in today's sophisticated retail environment requires special and consistent focus on optimizing supply network management.
The Purpose of the Supply Chain is to:
Offer the right products and services at the right time,
Across all of the different pieces of the supply chain,
At the lowest possible cost.
Effective management is advantageous for both Suppliers and Retailers, as it reduces cost of goods sold, thereby improving margins for both.
Who are the "Suppliers" and "Customers" in the Supply Chain?
There are many players in the supply chain, including factories, transportation, warehouses, networks and people, all of which add to the complexity of the process. You may think that the "Supplier" is always the consumer packaged goods company and the "Customer" is always the Retailer.
But, consider how the Supplier and Customer change in each step of the supply chain graphic below: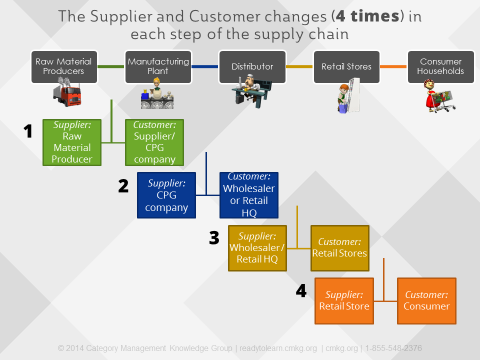 The changes in roles are seen in 4 Steps:
Step 1: The CPG company is the Customer who receives raw materials from the producers.
Step 2: The CPG company becomes the Supplier to the Wholesaler or Retail Headquarters Customer.
Step 3: The Retail Stores become the Customer once products are shipped from the Distributor or Warehouse Supplier.
Step 4: The Retail Store becomes the Supplier to the Consumer (the Customer) purchasing the product.
Each of the Suppliers and Customers at each point in the process are concerned about meeting supply demands, while controlling inventory levels. Any issues associated with meeting supply demands or running out of inventory have an impact on the total supply chain.
What "flows" across the Supply Chain?
There are 3 flows in supply chain, only one of which are the products.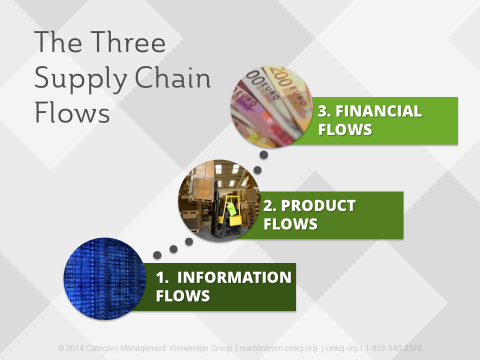 INFORMATION FLOWS
There are many different components that influence or are part of the information flow for Retailers, including general conditions of trade, product specifications, forecasting, inventory levels, order placement and order tracking. Below are three information flow examples:
GENERAL CONDITIONS OF TRADE (GCT). These are the Suppliers' or Retailers' rules and principles as they relate to business with their trading partners. Note that Retailers and Suppliers may have conflicting GCT and these conflicts need to be addressed and resolved.
General conditions of trade, or GCT, include:
Credit Terms
Minimum Order Quantities
Delivery Methods
Discounts
Return Policies
FORECASTING. A sales forecast is a projection of the expected Retailer demand for products or services from a specific company. Forecasts are one of the most critical exchanges of information in the product supply chain. Forecasting is a prediction of what will occur in the future, and it is an uncertain process. The accuracy of the forecast is as important as the outcome.
INVENTORY LEVELS. Managing inventory throughout the supply chain is critical to cash flow for both the Supplier and Retailer. Inventory should be at the lowest levels possible without incurring out-of-stocks. Out-of-stocks at store level can occur at many different points in the product supply chain. By balancing availability, inventory and cost, Suppliers and Retailers can both benefit. Of note is that Retailers are increasingly relying on Suppliers' management of in-store products — this is called VMI (Vendor-Managed Inventory) or Supplier-Managed Inventory.
---

PRODUCT FLOWS
The Product flow begins with a product's raw materials and continues as finished goods flow, fulfillment of product orders, transportation of products, and product returns. There are many detailed steps in this process that touch many desks for both Suppliers and Retailers.
---

FINANCIAL FLOWS
Financial flow relates to product pricing and invoicing, credit terms and early payment discounts and accounts receivable. Effective management of accounts receivable increases cash flow for the business, freeing up funds for operations, marketing, inventory and capital investments for both Suppliers and Retailers.
---
The Role of a Retailer's Logistics Operations

The larger Retailers in the world run some of the largest and most sophisticated logistics operations, but even small Retailers strive to keep logistics costs low in order to increase operating margins. As part of their logistic strategies, Retailers may:
operate their own trucking fleets to deliver goods from their warehouse(s) to their stores;
own distribution centres as means of reducing transportation costs, increasing service levels and reducing the number of deliveries to its stores; and
focus their efforts to increase the sustainability of their entire operations.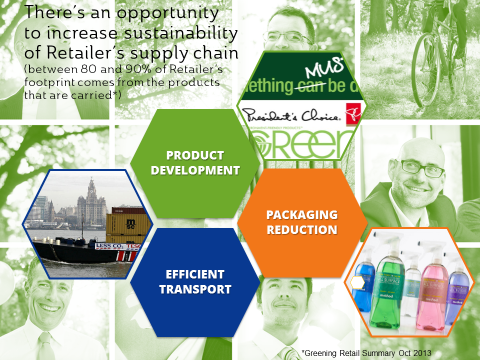 ---
In summary, the supply chain is affected by many decisions and choices across different business units, departments and teams. It is important for your multi-functional teams to understand all aspects of the entire product supply chain, and consider how recommendations and changes at their desks will affect the supply chain both for them and their customers.
---
Want to learn more about Product Supply Chain? Category Management Knowledge Group can help you, your team or your organization through a single course or a customized program. We have some great category management training options available to meet your needs. You can preview our brand new, accredited Strategic Supply Chain Management course below:
$125 USD
INCLUDES:

30-day Access

Hands-On
Workshops

Downloadable
Notes

Reference Guide

Knowledge Checks

Course Test