Pricing is one of the tactics of the Marketing Mix.
It is an important marketing tool in retailing, and has become much more analytically- and strategically-focused than in the past.
Prices vary based on different promotions, and on differing Retailer strategies. A difference of 5 or 10% in price can influence sales and profit significantly. Pricing decisions directly affect category sales, inventory positions and category profitability.
Price is the amount of money, or its equivalent, for which anything is bought, sold or offered for sale. This tactic plays a huge role in how much volume is sold in a category. Price is also a critical source of influence over Shopper purchase behavior.
Pricing is fundamentally different than the other 3 elements of the Marketing Mix because Product, Distribution, and Promotion create value, while Pricing EXTRACTS value.
When you look at pricing, you need to consider overall Retailer strategies and guidelines associated with pricing, category pricing strategies (including setting item pricing for new items and promotions) and some of the measures used in pricing analytics.
Pricing Strategies and Techniques
Retailer Strategies & Guidelines
There are many factors that influence the retail pricing strategy of a company. This includes company profit and market share objectives, manufacturing costs, price elasticity, competitive pricing, product value and legal constraints.
Retailers also need to consider and understand their pricing strategy as it relates to the consumer, cost and their competition. Companies should encompass other elements in their pricing strategy including the Retailer's pricing strategy in each market channel, the pricing strategies tied in with different category role and strategy assignments, the Retailer's strategic objectives, targets and goals—including price thresholds and guardrails—and their marketing mix.
Consideration for each of these elements will lead to a robust omni-channel retail pricing strategy: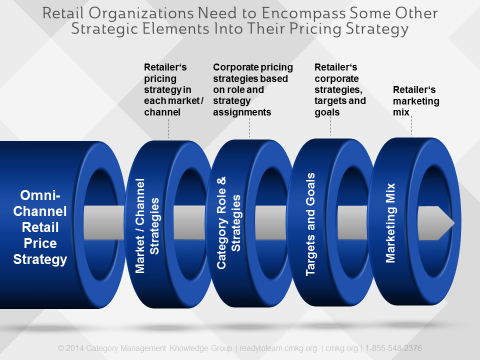 ---
Setting Item Pricing
In competition-oriented pricing, Retailers need to look at how their main competition is pricing products, and set their prices accordingly. There are several things that Retailers need to consider when developing a competitive pricing strategy, including pricing zones, pricing rules and key value items.
Price zoning gives the ability to maximize profitability while remaining competitive within the marketplace. Determining an optimal price strategy through zone configuration requires a deep understanding of many factors, like banner, geography, Shopper and/or proximity to competition.
For Retailers who price competitively in the market, tracking competitive pricing ensures they are staying competitive in the marketplace on their most important items. These items may be referred to as Key Value Items, or KVIs.
Retailers need to create pricing guidelines—or rules—as they relate to pricing products to ensure an aligned and consistent approach to pricing across categories. Following are some examples of these guidelines.
1. PRODUCT SIZE
Pricing guidelines can relate to product size to address the question how larger sizes of the same product are priced vs smaller sizes. For example, some retailers may decide that the larger the size, the better the price per unit of measure needs to be. Price slope analysis can be done to ensure that the slope is better on larger sizes.
2. PRIVATE LABEL / STORE BRANDS
Retailers who sell Private Label or No-Name brands should have specific guidelines associated with Private Label pricing in relation to national brands. Retailers may set specific targets—or guardrails—for the % price difference between Private Label and comparable national brands.
3. GROSS MARGIN / MARKUP %
Many Retailers have overall corporate objectives for Gross Margin % or Markup % Objectives.
Category Pricing Strategies
Once a Retailer establishes their overall strategies and guidelines on pricing, they need to develop category pricing strategies. Pricing strategies within a category need to reflect category sales growth and profit goals. Category strategies are integrated into the overall Retailer pricing strategy, so that they complement each other. This ensures Shopper communication alignment.


Categories need to be able to respond differently to price reductions and increases because changes in price—up or down—can significantly increase the quantity sold, have no effect on demand or significantly decrease the quantity sold. This price variability is referred to as price elasticity, and is an important part of strategic pricing analysis and price decisions.
1. NEW ITEM PRICING
New items are being introduced into the mix frequently for most Retailers, and there need to be guidelines for consistency in pricing practices. Considerations that Retailers need to evaluate when setting new item prices include:
Pre-priced products;
Existing items;
Key competitor prices;
Key Value Items:
Private Label price gaps; and
Margins and markups.
2. SETTING PROMOTIONAL PRICING
Retailers also need to set promoional pricing that gives overall consistency in pricing practices. Pricing will be determined based on:
Overall category strategy,
Historical ads and prices,
Deals and offers negotiated with vendors,
Inventory restrictions to prevent out of stocks,
Ad themes, product seasonality and item positioning in the ad, and
Display support.
These considerations must be aligned to overall budget sales and margin targets for the category, and aligned to the overall Retailer pricing strategies and guidelines.
Pricing Measures
There are many different measures associated with pricing, including:
Average unit price (including average, regular and temporary price reduction)
Gross margin, which expresses the relationship between gross profit and sales revenue
Slope, which is 1) a common concept which refers to the discount applied to volume of purchase; or 2) associated with the slope in elasticity.
Tonnage price or equalized volume pricing.
Activity Based Costing, where the cost of each activity is assigned to all products and services according to the actual consumption by each.
Breakeven Analysis, which implies that your total costs don't exceed your total sales – break even is the point at which they meet.
Correlation & price regression analysis, which are methods used to evaluate pricing that has happened in the past, to project future sales and profit at specific pricepoints.
It's important to understand both the calculations and the strategic implications of these different pricing measures and analytics.
NEED TO KNOW about Break Even Point in Pricing? Learn more with our complimentary eBook.
Looking to develop strategic pricing analytics? Category Management Knowledge Group can help you, your team or your organization learn more through a single course or a customized program. We have some great category management training options available to meet your needs.
Check out our accredited course on Pricing Strategies and Analysis Techniques or for higher level discussion of the latest developments, consider our Category Management Master's Training Course on Pricing.