In a previous blog, I wrote about the importance of business acumen, which is the ability to assess an external market and make effective decisions. Or more simply put, it's understanding how YOU and the work you do fit into the bigger picture.
As a business person, each of us should develop the skills and tools to think more like the owner of the business and to understand, set, and execute business strategy while being able to measure the effectiveness of their business strategy through financial performance.
How to improve your business acumen
If you want to improve business acumen, is to recognize growth opportunities that ensure long term success. An opportunity is any project or investment that will create growth for your business.
Get a new point of view
The problem is that opportunities can be overlooked when we do not pay attention to the big picture or if we are always looking at things from the same perspective.
A key example of this in category management is our huge reliance on retail point of sale data to make most of our decisions and recommendations.
In today's world, sustaining growth and profitability has become more difficult. Think of all of the technological advances, new data sources, more granular data sources, shortened product life cycles, the evolving omni-channel and the rapidly growing eCommerce change and new competitors (both retailers and brands).
Constant instability makes it critical for you to seek new opportunities in your categories and business in different ways than you may have done before.
When you think about growth opportunities today, where do you go and look for them?
Maybe it's in your point of sale data – by identifying category development index gaps, share growth opportunities, comparing vs rest of market – and then tying in with some type of action through your category tactics.
You might even go a step further and look at consumer panel data for that very important Shopper perspective. For example, if you're measuring penetration, your strategy may be to broaden the appeal of your category by increasing penetration of your loyal shoppers.
Below are other examples of strategies and corresponding measures that may help to identify growth opportunities in your panel data.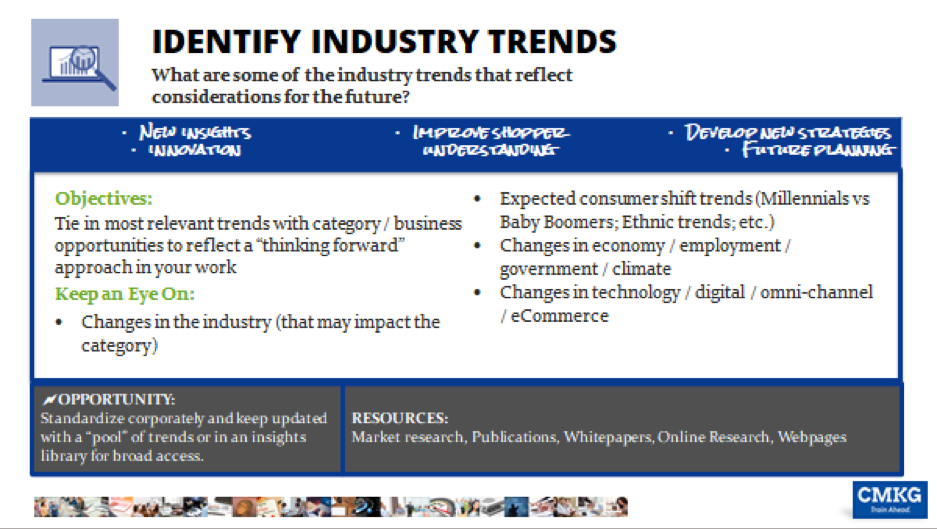 But we need to expand our thinking beyond this to really find insights to help us grow our business beyond looking at historical metrics and creating goals from them.
The question really is:
How do you identify market opportunities in our world that's changing so rapidly, with new data and technology, changing retail landscape, and new shoppers?
First, you need to understand your company's overall strategies, including their broad goals and areas of expertise. Once you have a good understanding of this, you should analyze the market, assessing consumer needs and how they are being met by companies today.
You might think you are already doing this, but are you identifying market opportunities from a broader perspective that consider the entire business model?
In an excellent whitepaper on the topic, Euromonitor provided "8 Ways to Identify Market Opportunities for Business Growth," which included some very relevant opportunities for our industry:
Consumer/ Shopper Segmentation (identify consumer/ Shopper segments that share common characteristics) – hard variables can help estimate the number of potential customers a business can have
Purchase Situation Analysis (by better understanding when and where specific products & services are purchased and how they pay) and offering new shopping alternatives
Direct Competitive Analysis (by understanding what categories / subcategories / brands are growing more significantly and understanding why, what their value proposition is) and determining opportunities vs competition
Indirect Competitive Analysis (by looking at different industries and indirect competitors) to provide insight on additional opportunities for growth
Complementary Product Analysis (by looking at performance of other related categories and products) … monitor performance of complimentary products and anticipate trends
Foreign Market Analysis (by looking at different markets with similar economic development) to estimate business potential or lead to new products or services that are still absent in your current market.
Environmental Analysis (by looking at things like technological developments – smart phones, Uber, AirbNb or environmental developments – like climate change)
Recap of our Business Acumen Webinar
We had four solution providers present some compelling examples of information that would not be available by looking at more traditional retailer POS data alone.
InfoScout

Nielsen
Prevedere
Slice Intelligence
INFOSCOUT: Presenter, Scott Johnson
The Private Label Paradox: The intertwined fates of brands and retailers

Scott shared the fact that a significant chunk of Private Label spend goes to retailers that many researchers miss due to gaps in existing Point-of-Sale data – because retailers like Aldi, Dollar Tree, Trader Joe's and Lidl are not measured in the total "market". Through Infoscout's panel data, he was able to show that across all FMCG categories, purchase of Private Label has a positive impact on Share of Wallet for most retailers. Some other data showed how the first retailer where Private Label was purchased by a Shopper typically gains share, dependent upon the holding power for Private Label.
NIELSEN: Presenter, Stuart Taylor
Expansion Through Assortment Expandability: Measuring product incrementality in order to drive growth through assortment
Stuart's focus on assortment – and the concern of avoiding saturation, or decrementality – seems counter intuitive, but makes sense. It's driven on the basis that most people believe that strong trending products are expandable and believe that strong trending product characteristics, such as "gluten free" or "Greek yogurt," are expandable and characteristics that are trending unfavorably are saturated. It seems intuitive that as products are generating extra revenue (trending well), their assortment should be increased to drive even more revenue. This seems obvious in many ways, however research shows that this is often untrue.
PREVEDERE: Presenter, Kate Chapman
Predictive Analytics: Discover the hidden drivers of consumer behavior
Kate's focus was on external factors and the importance of going beyond traditional planning that relies on history repeating itself - which is unlikely in current volatile markets. To accurately predict consumer demand, we need to know the full consumer story. While we're good at focusing on the 4 Ps (or what Kate refers to as "Affinity" in purchase behavior, we neglect understanding both Ability (Wages, hours worked, employment, major purchases and savings) and Attitude (sentiment, confidence, social media, search trends. She then showed some examples of how incorporating these other two perspectives into predictive analytics can help improve accuracy above 95%. Read the full article, The Three "As" of Predicting Consumer Behavior.
Disruption at the Door: e-commerce trends shaping the future of category management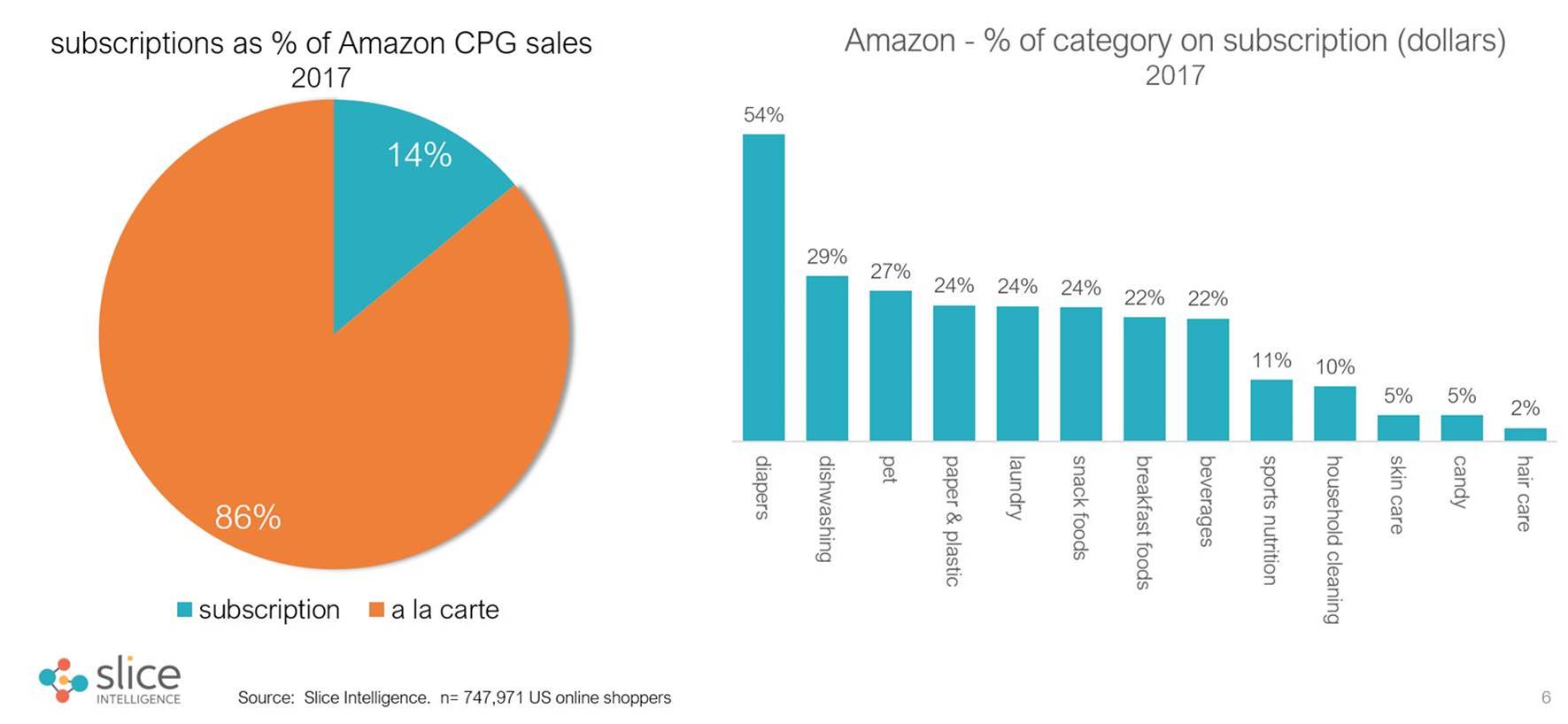 Ken's presentation focused on e-commerce and the importance not to ignore this disruptive force that's changing the way we think about retail. He shared the significance of subscriptions in certain categories for Amazon since their launch of Subscribe & Save 10 years ago. While subscriptions have declined in the past few years, it's anticipated they will grow with the evolution of IoT (Alexa, GoogleHome). He also talked about the power of "click & carry," and how it is accounting for a growing share of online sales. He showed an example of Walmart's omni-channel success and how the results are enviable to Amazon and most other retailers.