When you think about growth opportunities today, you might look at different measurements in your business based on what your overall strategy is.
For example:
If you measure penetration, your strategy may be to broaden the appeal of your category by increasing penetration of your loyal shoppers.
If you measure market share, your strategy may be to grow your share of the market by "stealing" share from competition.
If you measure loyalty, your strategy may be to increase your "share of wallet" (or loyalty) through effective in-store marketing programs.
Etc., etc.
How to start identifying growth opportunities
In order to begin identifying growth opportunities, you need to expand your thinking beyond historical metrics like penetration, market share, and loyalty, and begin to create goals from them. With our rapidly changing world – new data, technology, changing retail landscape and new shoppers — you can't find success with the way you've done things in the past (where the approach was simpler).
Want to know more? CMKG dives into identifying growth opportunities in a Skill-Building Webinar inside Premium Category Management Learning Membership.
The world has changed
You need to understand your company's business direction (including resources, strengths and capabilities), and then define a framework to help search for opportunities. Next, you analyze the market to include consumer/shopper, knowing when and where your products are purchased, the competition, complementary products, market potential, and an understanding of your external environment.
I've captured a few examples below to help you start thinking about where your biggest growth opportunities may be lurking.
How to identify growth opportunities
---
Think differently about Shopper segments and store clustering through new decision-driving attributes.
We talk a lot about Shopper segmentation and store clustering, and also about how dramatically today's Shopper is changing, driven by the Internet. In today's world of change, Shoppers are looking for better information about their products, and that need is transforming the way we do business today.
Shoppers search the Internet and shop according to their diet, their nutritional health and wellness needs, and their beliefs about lifestyle and sustainability – with apps and social media pages dedicated to their education.
Label Insight refers to this as Data-powered transparency, which is about meeting a rapidly increasing need for an ever-expanding set of product information, across multiple touch-points and channels, with accuracy and consistency in real time.
GROWTH OPPORTUNITY:
Refresh your approach by identifying "shop-able" attributes and learning how to analyze your business in new and meaningful ways. Apply these segments to your business — POS data, syndicated data, internal shipment and warehouse data — and you'll be looking at your business through a Shopper-focused lens.
---
Know your direct and indirect competitors.
Start by knowing what your direct competitors are doing. Understand what categories/subcategories/brands are growing more significantly and why, what their value proposition is, and determine opportunities vs competition.
Know what your indirect competitors are doing by looking at different industries and indirect competitors to provide insight on additional opportunities for growth. Check out the image below to understand ways to improve your competitive knowledge.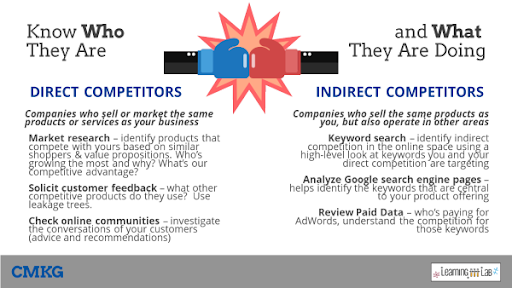 ---
Look at different markets to estimate business potential.
When a company is operating in a mature or saturated marketplace, exploring other countries may lead to additional opportunities. The opportunity is to look at different markets with similar economic development to estimate additional business potential and/or identify new products or services that are still absent in your current market.
Examples include comparing per capita consumption on specific categories or products in a mature market to indicate product life cycle, looking at markets more highly developed in private label to identify PL brand opportunities, and/or understanding Shopper trends in regions that are ahead of your market but that usually will mirror those trends a few years later.
So how do you get to this new approach to identify growth and improvement?
Do you have to wait for your company or your manager to tell you how to do this and tell you when to do it? NO!
One of the skills I see that we need in today's world is personal business acumen, where we have the mentality of "always be learning," and we show initiative instead of waiting for someone else to tell us what to do and how to do it.
Showing initiative is having the ability to take charge over a new or unknown situation. Having initiative is a way for you to think like a leader in your daily work, ultimately leading to and producing better problem-solving skills.
Taking the responsibility to look after an issue or event by finding the answer, is what having a strong initiative is about.
Here are the steps when developing initiative:
Challenge the norm, consider and analyze additional factors that may have an influence on business results, and get out of your comfort zone! Even if there is a "prescribed" way for you to analyze your categories/business that you need to follow, add in other elements that may provide some out-of-the-box thinking that need to be considered. Our historical category review approach needs to change — make the changes start with you!
WANT TO UPGRADE YOUR SKILLS? This topic is one of many we cover and continue to educate on through our skill-building webinars within our category management online training & resource center. You can access these and more resources to help you stay current by becoming a Premium Category Management Learning Member.