Ready to create your category plans?
Start with the essential category management foundations …
Effectively defining Retailer strategy is the MOST important foundation to achieve success for any Retailer. Retailer strategy should include consideration of the following:
Development of

overall strategies

associated with your store format(s), your target Shopper, your competition and your Private Label / store brands.
Proper

category definitions

(and associated segments based on the consumer decision tree) based on your target Shopper and how you view and shop the category.
Assignment of

category roles

to provide a structure to managing the categories across your store (once again based on your target Shopper).
---
Once a Retailer's strategies are defined,
they need to be communicated.
---
What's the point in creating strategies if they are not properly articulated and communicated? Strategies need to include the necessary guidelines, principles and processes from which they make decisions and recommendations at a category level.
What's Your Opportunity?
Retailers —
Take a look at your overarching strategies, guidelines and processes and determine if they are enough.
Are you giving your organization and external Vendor partners the structure to help them make the best decisions / recommendations at a category level based on what you are trying to accomplish as a total store for your target Shoppers?
What can be improved?
Vendors —
Ensure you are asking the right questions of your Retail partners and develop plans that consider the Retailer and category perspective vs brand-only solutions.
Are you getting enough information from your Retailer to make the best recommendations for their categories?
What can be improved and how much can you influence that?
---
Once a Retailer has established and articulated their strategies, it's time to start developing category plans.
Note: While plans can be developed without all of the strategic considerations outlined above – their outcomes will most likely be less successful.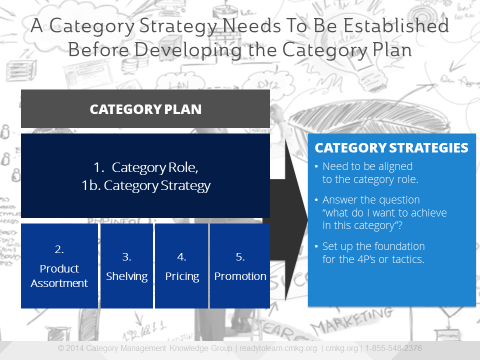 Step 1 of the Category Plan: Assign Category Strategies
As we have already established, the Retailer strategy, including the category role, drive the outputs from the category plan. Before developing the category plan, a category strategy needs to be set, which complements the category role that has been defined for each category. This step answers the important question, "What do I want to achieve in this category?"
Category strategies also set up the foundations for the tactics, including product assortment, shelving, pricing and promotion. Following are some resources for you to learn more about category strategies.
If you'd like more information on Category Strategies, we have a certified category management training course that will inform and guide the development of your category plans to achieve the most successful results.
$125 USD
INCLUDES:

30-day Access

Hands-On
Workshops

Downloadable
Notes

Reference Guide

Knowledge Checks

Course Test