Category Management on Limited Data? No problem!
One of the most important requirements in category management is data. In a "perfect world" you would have access to Retail POS data, syndicated market data, consumer panel data, transactional & loyalty card data and tactical data. But in reality, many of us find shortcomings in our data – whether it's driven by the region or industry you're in, your budget or specific category data gaps.
Limited data doesn't limit your ability to do fact-based analysis – it just means that you have to become more resourceful in your approach to maximize sources you do have.
Here are some resources to get you started in your catman approach using limited data:
Course Preview:

Category Management on Limited Data

Course Overview:

Category Management on Limited Data
---
3 Category Management Data Gaps — here's how to address:
1. No Consumer / Shopper Data:
One of the objectives in catman is to identify and understand the target Consumer / Shopper. Consumer data can be derived from consumer panel data to get a perspective of the consumer demographics and their purchase behavior across Retailers / Banners / Geographies and Categories / Subcategories / Brands. Shopper data can be derived from Retailer POS data and loyalty card data.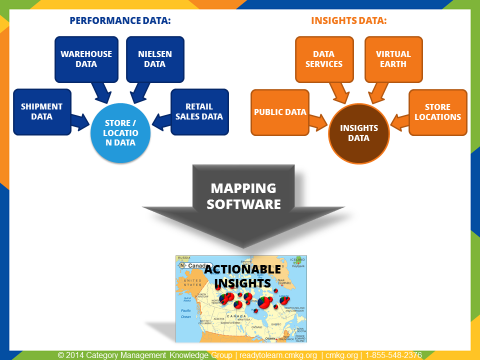 If you don't have access to Consumer or Shopper data, use location intelligence. This alternative can increase understanding of the consumer by using mapping software, adding in local census data, and then adding in any type of store level (refer to image above).
Location intelligence requires two different types of relatively easy to access data.
Performance Data: Includes data like shipments, warehouse, direct store delivery (DSD), Nielsen/IRI and retail sales data — any data sources that you have access to at a zip code or postal code level (for example, by store).
Insights Data: Includes census data, store locations, spectra, etc. — based on your specific business issue. Some of this information is quite easy to access, particularly if you have any type of census data available in your market.
Then you can complete your spatial analysis, which helps you to identify your target consumer (plus identify many other business building opportunities for both retailers & suppliers). A great category management data source!
---
2. No Market Data
The absence of market data creates gaps in understanding for both Retailers (how am I performing vs competitive Retailers in the market) and Manufacturers (how am I performing vs competitive brands?).
Consumer/Household Panel Data: If you have access to panel data, it typically includes some volumetric measures in it (including $ sales, all commodity volume, share of market). These numbers are derived from consumers scanning products at home or completing a diary, so they aren't as reliable as POS syndicated but are a good second option.
Vendor / Supplier Shipment Data: If Retailers have no view of "Market", Vendors can pull their shipment data (that should be segmented at an item level to consider Consumer needs), sum it to Retailer & channel & market levels and produce some market data. And then Retailers can develop their benchmarks from here. This is most effective if they are getting this information from several of their larger Vendors in a category, so they can compare their "market" share and performance from a few perspectives. If Retailers worked with several key Vendors in each category, they would be able to determine opportunities within their categories based on these insights.
---
3. No Tactical Data
The tactics (product assortment, placement, pricing and promotion) drive action in the category. Tactical data can give insights into what's driving overall business results. In a limited data environment, Retailers or Manufacturers may not have access to the tactics within their data set. In this scenario, there is a need to rely more on in-store observation data and manual tracking to get this data.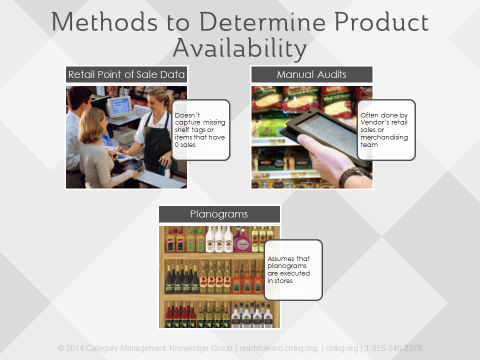 Retail POS Data: Tracking product availability can be done through Retail POS data, which may indicate that a product is, or is not, listed at a store. But until a manual store audit is done, things like missing shelf tags may not be realized.
Manual store audits: Through in-store observations typically done through the Vendor's retail sales or merchandising team or a 3rd party company.
Planogram data: Items included in a planogram can be confirmed as "available" if they are in a planogram. Realize that the planograms may not be executed in the store so there's a level of assumption.
In net, category management is definitely possible with limited data. It just takes a little more creativity and resourcefulness, persistence, perseverance and a strong Retailer-Vendor relationship that fosters data sharing.
A first step to getting started could be to identify the data that you do have access to and confirming what outputs and measures you can access across consumer, market and the tactics. Remember that if you do what you've always done, you'll get what you've always gotten. Good luck!
---

Looking for more ways to analyze with limited data? Category Management Knowledge Group can help you to move your team to the next level through custom category management training programs.
Check out our accredited course on "Category Management on Limited Data", which gives different examples and reports for completing analysis in different limited data scenarios.
$125 USD
INCLUDES:

30-day Access

Hands-On
Workshops

Downloadable
Notes

Reference Guide

Knowledge Checks

Course Test