I was recently working with a large client on strategic efficient assortment and asked them what tools they used to complete their assortment analysis. Their answer? 1) "homemade" tools; and 2) item rank reports (yes, ranked in descending order and cutting off the lowest selling items). Honestly, I was shocked—how has such an important tactic (the most important one!) become so unstrategic? This approach gives little or no thought to Retailer strategy or the Retailer's Shopper and their needs (it's what I was doing for assortment analysis almost 25 years ago!).
I think for some, assortment (and shelving, for that matter) have become too automated, too tactical and too low level. There's so much time spent on the tactical work associated with maintaining homemade tools, managing item-level databases and pulling the right data that there's no time left to incorporate very much strategy, Shopper or thought for trends into the recommendations.
The opportunity? 1) Reduce the tactical work across your organization through proper tools and processes; and 2) Ramp up your efficient assortment analysis with a strategic Shopper focus and get a new level of insights and recommendations!
---
Here are some resources to help you move to more strategic efficient assortment understanding:
Complimentary Download:

Understanding the Manual Assortment Process



Course Video Preview:

Efficient Assortment: A Step-by-Step Process

Course Overview: Efficient Assortment: A Step-by-Step Process
---
4 Ways to Inject Strategy Into Your Efficient Assortment Analysis
1. Incorporate Shopper Into Data
Understanding the category structure is critical for assortment analysis. To understand the category structure, you need to develop a consumer decision tree. There are many ways for Retailers and Vendors to develop accurate, consumer-oriented consumer decision trees.
Good category structures are often the result of integrating or combining the observations and conclusions from a number of different methods. It's an area where Retailers and Vendors can collaborate to determine the most effective consumer decision tree for the Retailer. Once you have developed your consumer decision tree, you can assign this category structure to item-level data, which will give you a consumer perspective of the category (see below for a simple example).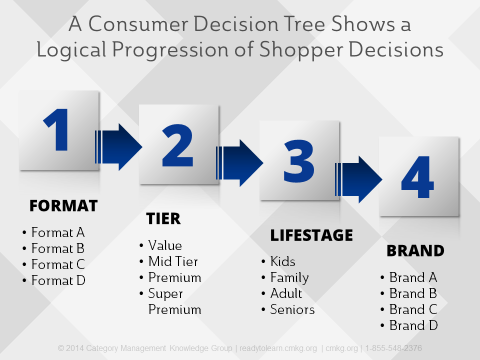 ---
2. Incorporate Retail Store Clusters
Many Retailers have started to cluster their stores based on things like local population and competition, store variables, local demographics and wider demographics, and store type. From there, different clusters emerge, and each cluster may have differing assortment strategies based on the variances in the cluster. Within each cluster there will be different assortments assigned.
---
3. Consider Category Role and Strategy Assignments
Your assortment analysis should consider the Retailer's role and strategy assignments for the category because they have a direct impact on assortment strategies. The role of the category will determine if the category will have a broad or narrow assortment. Other strategies like market coverage, large size strategies and private label strategies will also impact assortment decisions. Finally, the strategy of the category—and its segments—will determine if there will be a premium lineup, a more broad assortment or a large size strategy. For example, an image enhancing category may be tied to a more Premium Lineup, so there may be a focus on a higher end product assortment.
Here's a recap of the components that should be included in the category setup. If up-front work isn't completed and considered prior to doing the assortment analysis, you will not make decisions or recommendations that align with the Retailer's overall strategies, or consider their current opportunities and development areas in the category.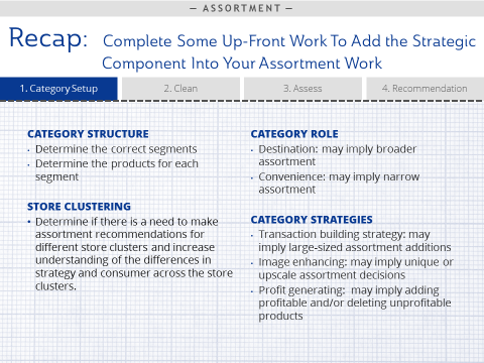 ---
4. Category Performance Measures / Category
By understanding how your category is performing across key measures, it gives you direction on making assortment additions and deletions in the category.
A strong category assessment will uncover:
an unprofitable category or particular segment,
a plan of action facing aggressive growth objectives,
concerning productivity measures like high inventory, high out-of-stocks, or low sales per square foot,
specific segments or brands that are important to your target consumer.
Imagine if you completed your assortment analysis without knowing any of these important elements about the category!
Once you understand overall category performance, you can complete analysis at a subcategory level (based on the consumer decision tree that you've applied at an item level). This can include analysis like:
Share per Item (subcategory $ share / # of items)
Item Share (# of items by subcategory / # of items in category)
Fair Share Index Subcategory (subcategory item share / subcategory $ share)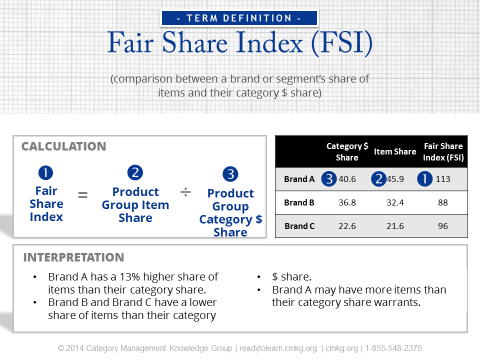 Remember that the objective for Retailers should not be at 100 FSI across all subcategories and brands. Retailers need to be much more strategic when using FSI by tying in FSI objectives with the subcategories and brands they want most developed based on their target Shopper. View the video below (an old YouTube video I created several years ago) to learn more about properly using "index".
Now you're ready to complete your item-level analysis—ensuring that you incorporate all of the strategic insights gleaned from the 4 steps above.
I hope that you found these tips useful! Happy learning!
---
Looking to develop strategic assortment analytics? Category Management Knowledge Group can help you, your team or your organization learn more through a single course or a customized program. We have some great category management training options available to meet your needs.
Check out our accredited course on Efficient Assortment: A Step-by-Step Process or watch a video preview of the course by clicking the graphic below.
$125 USD
INCLUDES:

30-day Access

Hands-On
Workshops

Downloadable
Notes

Reference Guide

Knowledge Checks

Course Test